What can you expect from IELTS-28?
Ages 16+ | IELTS exam preparation
This course offers full-time IELTS preparation for set course periods of 3 to 5 weeks. In total it contains 28 lessons (21 hours) of IELTS tuition, preparation and practice per week.
IELTS Scores
This English course is designed to ensure that you achieve at least the minimum score for entry to a degree course at a British university, usually 6.0. However, it is also suitable for students aiming for 7.0 or higher. You will need to be at least at the Strong Intermediate level (IELTS 5.0) to start this course.
If your level of English is well below your target score, you should start your studies on the EFL-28 course with afternoon IELTS Preparation and transfer to this course towards the end of your studies.
Course dates 2021
| | | | |
| --- | --- | --- | --- |
| Course starts | Course ends | Weeks | Exam date |
| January 04 | January 29 | 4 | January 30 |
| February 01 | February 26 | 4 | February 27 |
| March 01 | March 26 | 4 | March 27 |
| April 05 | April 30 | 4 | May 01 |
|  May 03 | May 28 | 4 | May 29 |
| June 07 | July 02 | 4 | July 03 |
| July 05 | July 30 | 4 | July 31 |
| August 02 | August 27 | 4 | August 28 |
| September 06 | October 01 | 4 | October 02 |
| October 04 | October 29 | 4 | October 30 |
| November 01 | November 26 | 4 | November 27 |

Notes to parents and guardians of students under 18 years old
Our IELTS-28 preparation is considered to be an "adult" course and therefore we primarily cater for students aged 18 years or older. However, we also welcome students aged 16 & 17 who prefer an "adult" course to a camp programme (such as Sir George or a summer camp).
It is important to note that on IELTS-28:
The levels of supervision are lower than those provided on our camps. We do not provide 24 hour supervision and students will not be supervised during free time
Students aged under 18 must attend all lessons
All students are expected to make their own travel arrangements to and from their accommodation if not booking a transfer through us
It is normal for students to have some periods of time in the homestay house without an adult present
Students aged 16 & 17 on "adult" courses often study in classes with adults aged 18 or older
The minimum age of students in class with ages 18 or older will be 16 years old
Students aged 16 & 17 may be joined in class by ages 14 & 15 (attending the Sir George camp)
The minimum age of students in class with 16 or 17 year olds will be 14 years old
There are strict "curfew" rules regarding the latest time under 18s can return to their accommodation in the evening
Students aged under 18 are not permitted to travel independently outside of Cambridge without a responsible adult and written permission from a parent or guardian
School social activities are supervised by members of staff, but all students attending social events are expected to make their own way back to their accommodation
We sell tickets for full-day and weekend excursions run by other companies but not to under 18s, as we do not think the companies which run them provide the necessary supervision for this age group. Under 18s can only join Studio-organised excursions, which are led by our staff but allow unsupervised free-time during the day
We strongly advise parents of students aged 16 & 17 to arrange return taxi transfers through Studio and avoid independent travel
On arrival, students should aim to arrive at their accommodation in Cambridge no later than 20:00
What do our IELTS lessons involve?
Our teaching
For this IELTS course we teach you the academic language needed to follow a university course in English. Our courses combine language development with examination technique, study skills and examination practice. We will improve your skills and the techniques needed in each part of the exam.
The aim of the course is to:
Give you a clear understanding of English grammar systems and how to use them
Increase both active and passive knowledge of vocabulary
Develop sensitivity to written texts, identifying the main ideas and understanding the author's attitude
Improve global reading skills, including skimming and scanning for specific information and detail
Develop techniques for improving fluency, expressing personal opinions and supporting arguments
Plan a structured approach to writing including organising ideas, defining and explaining main points
Develop listening skills including being aware of stress, intonation and register
The courses attract hard-working, motivated students who have examination success as their clear and specific goal.
Studio Cambridge teachers choose materials from a range of the latest text books and websites. Materials are given to you in the form of photocopies and visual presentations, for you to order for reference in your files.
All classrooms have Wi-Fi, internet, data projectors and speakers. Teachers often design their own materials based on video clippings, websites, newspaper or magazine articles, TV programmes and ongoing events in Cambridge. Computers and Wi-Fi are available to all our students for language exercises, personal study and internet research in our dedicated Learning Centre.
Methodology
We do not limit ourselves to one single methodology as different students respond to different teaching techniques.
At the intermediate levels, you will work on communicating ideas clearly and with confidence. Language will be presented within the cultural context of life in Britain.
At the more advanced levels, your expertise is developed further by discussion of topics of a cross-cultural or international flavour and you will begin to master the more complex nuances of the language.
For an example of the kinds of lessons we run, please have a look at our timetables.
Your progress
Recent IELTS exam results at Studio Cambridge
 Year of course
Students taking
the IELTS exam
(including EFL 28 students)
Average grade
2014
62
5.7
2015
96
5.9
2016
98
6.0
2017
115
6.2
Content
Our IELTS Examination Course is ideal preparation and has proven to be highly effective. All lessons concentrate exclusively on the examination.
At Studio Cambridge, the English courses follow a highly structured syllabus. All lessons of both the 3, 4 or 5-week courses concentrate exclusively on ensuring your success in the examination.
The course includes:
Describing graphs and diagrams
Planning, organising and writing essays
Question formats which are particular to IELTS
Understanding scientific texts
Speaking task 2: preparation and delivery of a two-minute monologue
Additional homework and private study
Exam practice, including a full mock test to highlight individual students' weaknesses
Extras
Examinations
The examination offered by the International English Language Testing System (IELTS) leads to an internationally-recognised qualification for entry to universities and colleges throughout the English speaking world.
If you wish to take the IELTS examination at the end of your course, we will extend your accommodation in Cambridge until the night after the exam date at no additional cost.
The cost of the examination (which is optional) is not included in the course fees. It is estimated at £185 and should be paid for in the school. The course uses specialised course books at an additional cost of approximately £50 per course, to be paid for in the school.
Transfers
Taxi transfers from or to the airports, are available to book in advance via our online enrollment or on request at a later date.
The nearest airports to Cambridge are Stansted, Luton and Heathrow. Gatwick and Birmingham are also not too far away. Public transport (train or coach) link all the above airports to Cambridge. Please see our 'How to get here page' for more information.
We strongly advise parents of students aged 16 & 17 to organise return taxi transfers to avoid any problems.
Excursions

Regular excursions from Cambridge are offered to students at extra cost. Options include one-day trips, weekend excursions, London theatre trips and English Premier League football games. Destinations include London, Brighton, Oxford, York, Canterbury, Liverpool and Edinburgh.
One-day trip prices range between £25-£50. Weekend trips may be 2 or 3 days and start from £130 upwards.
Some excursions are organised directly by Studio whilst others are organised by external companies.
Students aged under 18 may join the Studio-organised excursions but other excursions are only offered to ages 18+.
Registration
There is a registration fee for all new Intensive English Course bookings. The fee for ages 16 or 17 is slightly higher in order to cover the cost of extra welfare supervision required by under 18s.
Meals
Some meals are included in the accommodation package (e.g. with Homestay accommodation). However, weekday lunches are not included in the fees on the IELTS-28 course.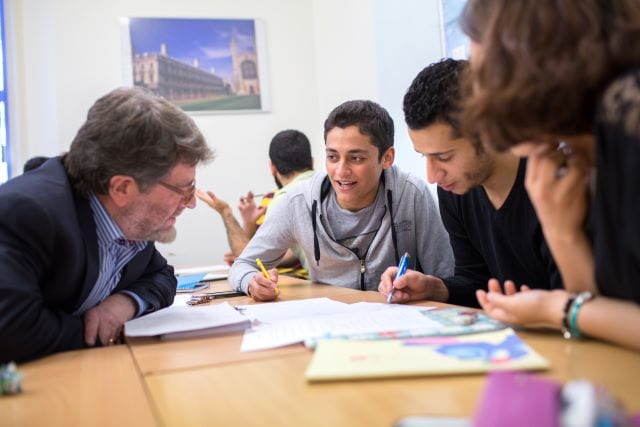 Prices
2021 Course Prices
| | |
| --- | --- |
| 3 weeks | £975.00 |
| 4 weeks | £1300.00 |
| 5 weeks | £1550.00 |
Use our course pricer to build a package tailored to what you need – whether that's a course on its own or with accommodation and airport transfers.
–
Check out the gallery below to see what our students get up to!
Gallery
Explore Studio Cambridge...
Enrol
Contact Us