Study English in Cambridge
So you've made the decision to study English in England – congratulations! That's a wise choice and an experience you'll never forget. But where do you go? Which city do you choose as the best location to speak English, study English and practice English? London with its regal history? Brighton with its beaches? Oxford with its spires? Or what about studying English in Cambridge? What does Cambridge have to offer an international student? Here are our top 10 reasons to study English in Cambridge.
1. The diverse mix of students
Cambridge is a young peoples' city. As well as international English language students, we have approximately 20,000 University students studying every year across all of the colleges, in over 65 different subjects. Around 12% are international students, so you'll be sharing the city with other students from all over the globe, of different ages and backgrounds.
2. The History and The University
Cambridge University is the fourth-oldest surviving university in the world, with over 800 years of excellence, and 31 different colleges. It is consistently ranked in the top 3 universities of the world. It also has an endless list of famous students, including over 100 Nobel Prize winners and 15 British Prime Ministers.
Even before the university, Cambridge has a rich history that dates back to the Bronze Age. The Romans, Saxons, Vikings and Normans settled here, and it became an important trading centre, with the River Cam being used to trade goods up and down the country.
One of the most famous of all of the colleges is King's, and its chapel which dominates the city centre. It was built over a period of nearly 100 years, and visitors can walk around and take in the amazing stained glass windows and paintings. You can even listen to the renowned chapel choir who perform their special service of Evensong, as well as the service of 'Nine Lessons and Christmas Carols' that has been performed every Christmas Eve since 1918.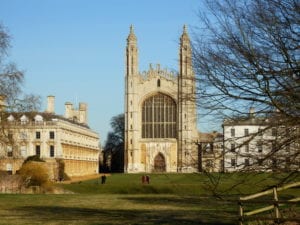 'Punts' are the names given to pleasure boats with a flat-bottom that are made entirely of wood. They were originally designed as cargo boats, however they are now purely used for the pleasure of tourists and locals alike. By far the most popular pastime, you can either punt yourself or be punted by a professional guide, who will tell stories and interesting facts as you pass under centuries-old bridges, past colleges, and other buildings only visible from the river.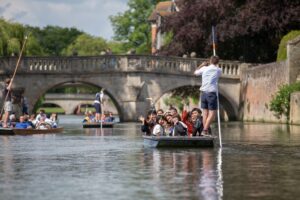 5. The old city centre
Cambridge city centre is unlike any other you would find in the country, due to most of the buildings being owned by the university. This means the appearance has changed very little in the past 800 years since it was founded.
Sure, there are modern shopping centres with lots of High Street stores and independent retailers, however the small streets that you pass through and walk on, are the exact same stones and cobbles that famous scholars such as Isaac Newton, Charles Darwin and Lord Byron would have stepped on!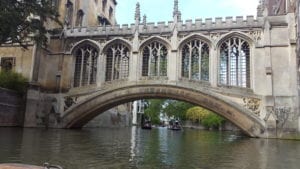 6. Food and Drink
Cambridge is a multicultural society, therefore people have become accustomed to eating and enjoying dishes from all over the world. Every style of cuisine is present, whether you choose fine dining or a quick bite to eat on-the-go. Fancy a Lebanese barbecue cooked over hot coals? A fusion of Japanese and Danish sushi? Or simply a traditional Italian gelato? It's all here If you do fancy seeing what the 'Best of British' has to offer, there are plenty of cosy pubs where you can sit by an open fire and have a crusty meat pie or battered fish with chips.
7. Studio Cambridge
Cambridge is one of the UK's most popular cities for language students, and the city has a large number of language schools to choose from. So why choose Studio Cambridge? Well, as well as being the oldest in Cambridge (67 years old in 2021), Studio has a wealth of experience in teaching individuals and groups of students from beginner to proficiency level.
You also get a free social programme included to make sure that your stay is as action-packed and enjoyable as possible. Everybody here – directors, teachers, welfare or accommodation staff – want you to do well and come away with a positive experience. We go that extra mile to ensure that you succeed and make some of the best memories that you'll remember for the rest of your life.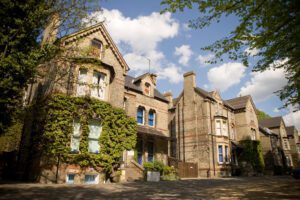 8. Location and Transport
Cambridge is situated in the South-East of England. It is approximately 50km North of London, which is less than an hour away by train. Trains depart Cambridge for London every 15 minutes. Since the journey takes as little as 50 minutes, London is easy to visit for a day's sightseeing, shopping or to visit the theatre or attend a concert.
Cambridge can be reached by public transport or taxi from all the London airports in less than 3 hours. Stansted is the closest airport to Cambridge, just 45 minutes' away.
It's easy to travel independently from Cambridge by train or coach to all destinations in the UK. You can be at the seaside on the South coast or at a castle in the North of England in just a couple of hours .
9. Sport and Leisure
When you associate Cambridge with sport you may think about the famous annual 'Boat Race' between students of Cambridge and Oxford. But did you also know that the city is the birthplace of the laws of football, which were the foundations of the association rules that we play by today?
Sport is an important part of everyday life in Cambridge. The many parks and recreational areas see people from all over the world playing together for fun. As well as the important sporting history, Cambridge also has 3 swimming pools, tennis courts, a bowling alley and many different gyms which offer short term student membership. Cambridge also has all the shops, restaurants, cinemas, theatres, clubs and galleries you need!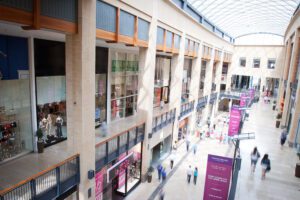 10. The Museums and Culture
If sport isn't your thing then there are still a lot of interesting places to visit during your free time, including 18 different museums; many of which are free to enter. The most famous of these museums is the Fitzwilliam, which was founded in 1816. It houses the university's collection of arts and antiquities, including a large number of artefacts from ancient Egypt, and paintings from some of the world's most famous impressionists.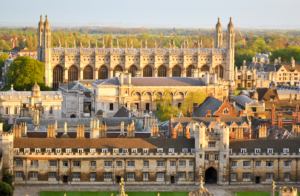 Have we inspired you to study English in Cambridge? If so, please check out our range of courses for adults, teenagers and children here.