English Teaching Methods
Teaching English is often considered one of the most rewarding careers and can provide a lot of personal satisfaction. As you enter your teaching career, you will find that you adapt your teaching style to suit your students; however, it's important that the fundamentals are there to allow you to build on.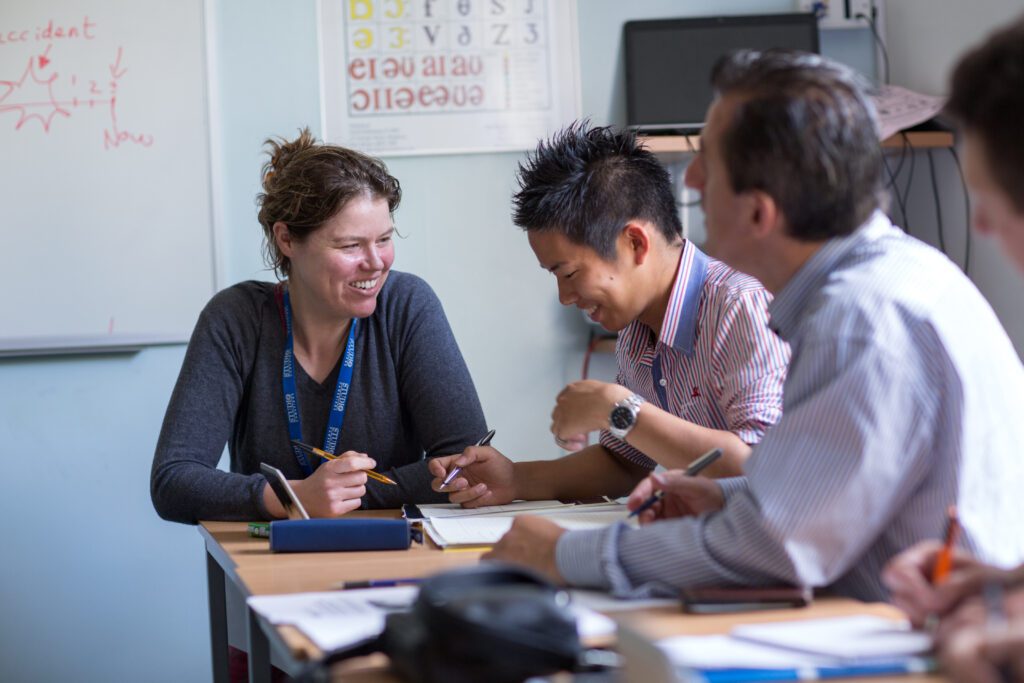 At Studio Cambridge, we are lucky enough to have an array of experienced teachers with varying teaching styles. However, they all started with the same core approach to give them the framework to turn them into the teachers they are today.
Our Core Aspects of Teaching
Our teaching aspects are unified to ensure that everyone receives the lessons they need to become expert teachers in the future. These core aspects of teaching are:
Language input must be balanced with language practice and that practice must have emphasis on speaking and listening.
Lessons must be centred on the student with opportunities for those students to work problems out and practice their skills with limited teacher talking time.
Language input must be recycled, for example, checking and reinforcing of any language previously taught.
Lessons need to be linked to the world outside of the classroom. The language that is taught is linked to things you will do and places you will go to around Cambridge and the UK.
Methodologies
When it comes to methodology, we do not limit ourselves to one particular style as we have learnt over the years that students respond differently to different teaching methods. It's all about adapting our teaching to the individual to ensure they receive the best education they can to go on to speak fluent English.
We utilise multiple teaching methodologies to get the best results for our students, you can find some of these listed below:
Concept Checking – Taking time to check students understanding by asking carefully devised questions specific to the topic, as opposed to generic, closed questions.
Drilling – Repetition of words and phrases in a teacher-student synchronised manner so that students can focus on pronunciation and better memorise them.
Eliciting – Providing the meanings of words through examples, drawings or definitions and asking students try to provide the words. This gives students a chance to show what they know and keeps them involved.
Guided discovery: These exercises prompt students to work out grammatical rules for themselves.
Presentation-Practice-Production – The teacher presents the grammar first, then the students practise in a controlled way before a more free-standing practice.
Reading and listening skills – Teachers use lead-ins, pre-teaching vocabulary, gist and specific information tasks along with consensus-building to form a process which helps students improve their comprehension skills. This is amplified by using authentic recordings and texts taken from the internet, newspapers, and magazines.
Speaking skills – Students take turns paraphrasing with a focus on varying intonation, repeating tasks to improve performance and lots of practice to develop fluency. Personalisation and the natural cultural knowledge gap that exists between our international students are used to generate interest and listening.
Task-Teach-Task – Students are first given a task that requires them to use grammatical structures which will be the focus of the lesson. The teacher observes how the students perform the task and then builds on their errors, gaps and successes before practising. This is particularly useful for higher level mixed-nationality groups whose members are familiar with the structures to varying degrees.
The Phonemic chart – All our teachers are familiar with the phonemic symbols and provide transcriptions of words with troublesome pronunciation. As students pick up the symbols this provides them with the independence to check the pronunciation of new words in their dictionaries.
The Lexical Approach – We place a strong focus on vocabulary, particularly collocation, and draw students' attention to the way words often appear together in semi-fixed phrases.
Study Skills – Students are shown ways to help them study English outside the classroom which gives them independence, particularly in the area of recording and revising lexis.
Writing – We teach writing as a process, helping students to review, evaluate and improve their compositions, moving from a draft to a polished product.
Weekly Progress Tests – Students are tested at the end of each week on the vocabulary covered in order to assess the success of the teaching and learning and to recycle the language.
Progress
This process of adaptive methods has allowed our students to make significant progress in relation to the time spent on the programme. We have found that varying methods allows the student to understand the language in different ways to effectively allow them to utilise their learning in the real world.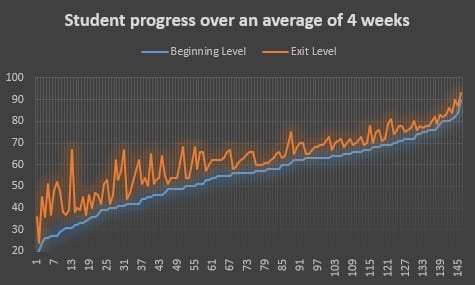 This approach also helps us meet our mission objectives of providing a safe, welcoming environment in which our students can improve their English language skills and gain insight into British life, culture and heritage, both inside and outside of the classroom.
For more information on our programmes and how we work, we encourage you to contact us.