Junior summer camps
Winter is fast-approaching, the days are short and cold, and we turn our thoughts to the summer. With long, sunny days and warm, light evenings, the months seem to stretch out in front of you. But, what will you do during the holidays? The things you could do in a summer are endless. One of which, could be joining a junior summer camp and learning a new language whilst enjoying an action-packed social life and discovering all that the UK has to offer. Here at Studio Cambridge, we have several junior summer camp options available for ages between 8 and 19.
What is a junior summer camp?
A junior summer camp is a supervised residential programme for children or teenagers during the summer months. In the case of Studio Cambridge, the camps combine English tuition with an interesting and varied programme of activities and excursions. Each camp is designed for a specific age group.
What do the camps involve?
The academic content of the course is carefully structured, similar to our already existing intensive courses for older students. The teaching concentrates on speaking and listening throughout, to build on the English you may already know based on previous learning.
We assess each student in advance to ensure they are placed in the correct class, to enjoy a level of learning that suits them. Each level of course is designed with the student in mind to make it effective and age appropriate. In your class, there will be no more than 16 students and you will be taught by two teachers.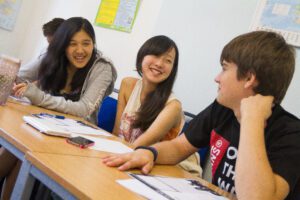 During lessons we include a range of interesting topics which are accompanied by discussion that keeps you talking English throughout. These topics can include, adventure, our environment, technology, shopping, fashion, fame, media, family, friends, food, sports… the list is endless!
What's included?
20 or 28 lessons of English tuition per week
residential accommodation
all meals
return transfers from London Heathrow or London Stansted airports
a full programme of social, cultural and sporting activities
excursions every week to places of interest in the UK
So, the good news is, you don't need to worry as we have everything covered! Studio Cambridge will be responsible for you and your experience from the minute you arrive at the airport, providing you with all the care and welfare you will need during your stay.
All of the administrative bits will be worked out prior to your arrival so that you can concentrate on everything else the course has to offer.
Where do your students come from?
Each year, students come to Studio Cambridge camps from over 65 countries and speak dozens of languages. The mix of nationalities changes from year to year, from week to week, and according to the camp. However, we work hard to keep a great international mix of students at all camps in all weeks. Students make lifelong friends from all over the world!
Vicente Leighton Vega, 15, Chile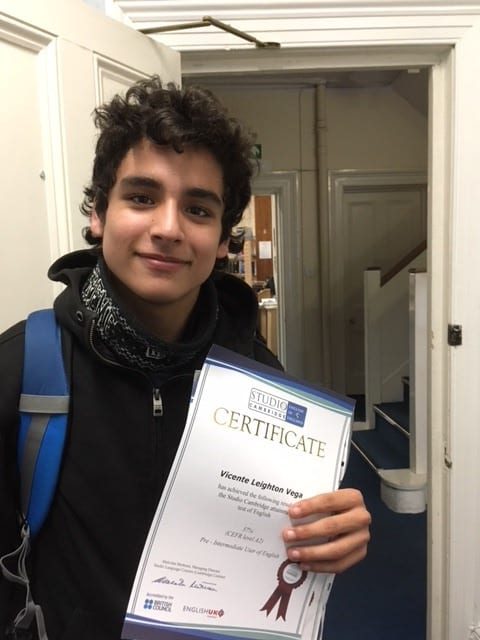 "I had a good time at Studio because I made good friends, I had a good teacher and I learned a lot here."
I liked the city because the people were so nice with me.
The excursion on Saturdays was cool because I can learn about England.
Reception is good because they can help you if you have a problem or if you have a problem.
In the Café its good because you can stay with more people and the food is nice.
So, what are you waiting for? Enquire today to start your English Language journey with Studio Cambridge!