Are Online English Lessons Better or Worse than Face-to-Face classes?
A New World of Online Language Learning
The Covid pandemic led to an instant explosion of online learning in education across the world and language learning was no exception. Language schools had to adapt quickly, and teachers and students alike were suddenly faced with the challenge of spending hours in front of a screen using video conferencing platforms like Zoom. After two years it feels like the world is slowly returning to something like normal – but will things really be the same? What have we learned about different ways of learning English, and can we answer the question: is learning English face to face better than learning online?
Advantages of Face-to-Face lessons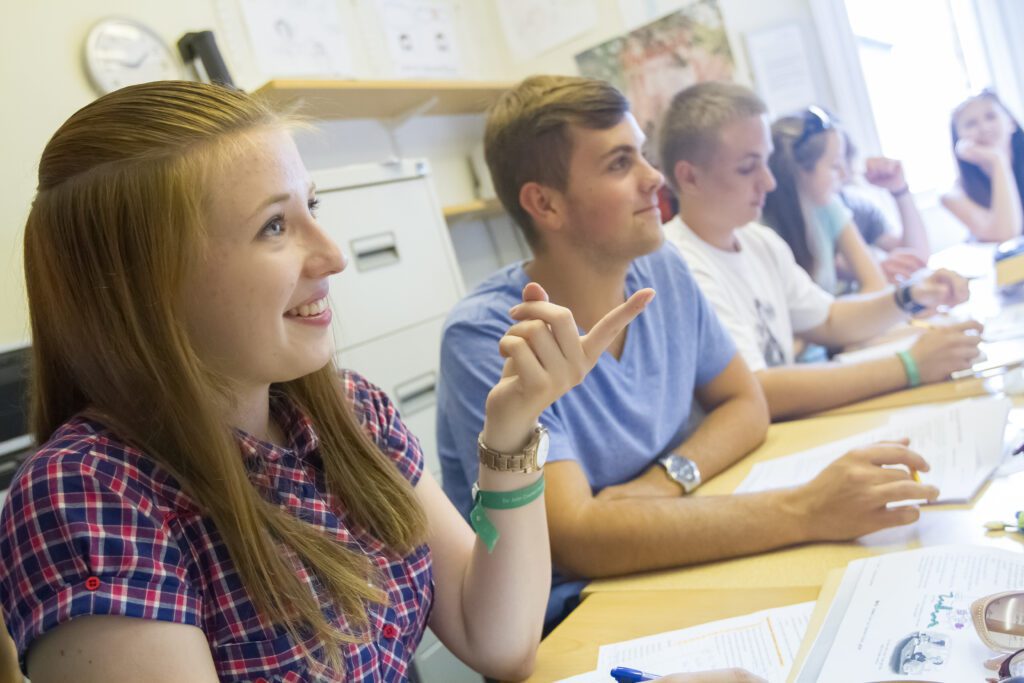 Body Language and gesture
It's easy to forget, but when we speak with others face to face we get a great deal of information from body language and the way people move their whole body. Arm movements and gestures we make with our hands especially, which we can sometimes miss online, enrich our communication and understanding of the teacher and other students.
Seeing others communicate
Also easy to overlook is how much time in a class we observe others interacting – again, a wider field of vision provides more valuable information about these interactions. We learn not just by talking directly ourselves but by watching and listening to the communication of people around us.
Social benefits
Students communicate in class of course, but when they are together in the same physical place they also tend to spend a lot of time with each other outside lessons too – Studio organises

a range of activities and excursions

that are very popular with students from all over the world. I have seen many long-lasting friendships begin between students in my school!
Contact with teacher
Students in face-to-face courses also can have more opportunity for some degree of informal contact with the teacher before or after class. In my experience, students often use a minute or two just before the lesson begins to share something that may be actually very important to them.
Meeting more people
Linked to the two points above is the basic benefit of working in a shared physical space, whether at work or in a language school – the experience of unplanned encounters with other people. In fact, these types of chance meetings can lead to surprising benefits.
More support
Actually walking around inside a school can make it easier to access support from other parts of an institution. At Studio we have a number of experienced staff dedicated to welfare and accommodation, and to keeping our students updated on social activities and dealing with any other questions they may have relating to courses for either

adults

or

young people

.
Time off-screen
Although we have all got used to spending time on screens it can be a relief to spend at least some of our day off-line, chatting and working with others.
Variety and flexibility of teaching resources
Clearly, the benefits of technology can be introduced into face-to-face lessons but language-learning activities which involve the manipulation of physical items such as cards or real-life objects are also very effective. Drawing and other creative activities may also enhance the learning experience for many students.
No reliance on technology
Lastly, technology can fail! While internet connections and problems with devices can be disastrous in a purely online environment, face-to-face teaching can be more flexible and adapt to these types of issues by providing material in different formats as necessary.
Advantages of Online Lessons
Different types of learner
Some students can find online communication less overwhelming than the experience of sitting in a classroom with other students. This is the positive side of the slight barrier that this format arguably introduces. This can also make online classes seem more 'democratic', and I have seen for example that students can be more careful about taking turns in online lessons, to the benefit of less outgoing and confident members of the class.
Greater Flexibility in Class
Related to the previous point is the fact that students in online lessons may find it easier to 'switch off' for small periods of time in the class, and effectively learn more at their own pace.
Timetable to suit you
Of course, online learning can be far more flexible overall in terms of time.  It is often easier to arrange a timetable that really suits you, from the number of hours per week to the time of day you would like. Studio Cambridge offers rage of range of

online options

, including lessons in the evening and at weekends.
Cost
Unsurprisingly, online classes and generally cheaper than face-to-face courses. The reduced cost of the lessons themselves as well as the significant savings on travel and accommodation make online learning attractive for those looking to limit their budget.
Technology
The integration of language learning into a digital environment reflects developments in other areas of work and study. There is no doubt that the expansion of online classes in recent years has driven the growth of technological applications which can enhance learning. The best online teaching makes effective use of a range of these resources.
What's best – Online or Face to Face English classes?
So, which is the winner – online or face-to-face English lessons? As in many areas, the truth is that it is not an either/or question. The two formats can provide an effective learning experience – it is high-quality teaching that is key to the success of both contexts. Also, it could be argued that the experience of intensive online teaching has given teachers insights that can enrich their face-to-face teaching, for example the better use of technology. I don't want to sit on the fence completely though – if we take away the constraints of time and money (a big 'if' I know!) for me, face to face is the winner. It's hard to beat the energy and excitement of the physical classroom, the opportunity to meet people from different countries in 'real' life and to explore a beautiful city like Cambridge.