Who maintains Studio's standards of excellence?
Day to day running of the school is overseen by Richard Mountford (Managing Director) and Nicole Kennedy (Sales Director) who have both been at Studio for over 20 years.
They are assisted by teams of specialists who look after every aspect of our students' stay.
The Academic Team
Richard Elstub – Academic Manager
As Academic Manager, Richard is responsible for the employment and professional development of all academic staff at Studio, and for the development of the syllabus and teaching materials. He also oversees the administration of the CELTA course. Richard has been at Studio since 2000.
Tim Essex – Director of Studies
As our Director of Studies, Tim gives advice and information to students on their language studies. He helps to assess students' initial levels of English, gives advice on the most appropriate courses for each individual, including examination entries, and prepares progress reports for sponsors, parents and universities. Tim has been at Studio since 2008.
–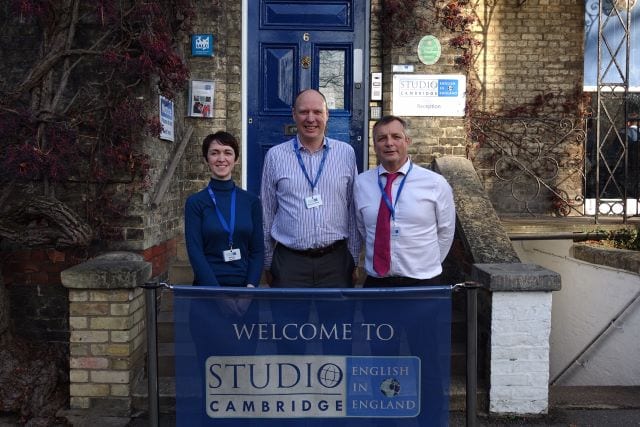 –
The Sales Team
Nicole Kennedy – Sales Director
As Sales Director, Nicole manages the accounts of Studio's agents and representatives around the world and represents the school at trade exhibitions and fairs. Nicole has been at Studio since 1998.
Cheryl Rumsey – Sales Manager
As Sales Manager, Cheryl is responsible for ensuring that the Sales Team provide agents and students with the very best service – from enquiring and enrolling, through to leaving the school. Cheryl returned to Studio in 2010.
Stuart Lee – Head of Finance
As Head of Finance, Stuart collects payments from agents and students and sends out commission statements to agents. Stuart has been at Studio since 1999.
Richard Mountford – Managing Director
As Managing Director, Richard is responsible for the smooth-running of Studio Cambridge and the summer camps and represents the school at trade exhibitions and fairs around the world.
Richard has been at Studio since 1995.
The Accommodation and Welfare Team
Luke Fitzjohn – Head of Accommodation
Luke has worked at Studio since 2007 and is responsible for ensuring the high standards of our student accommodation. Luke is also Head of Welfare and Pastoral Care and Deputy Safeguarding Lead.
Verity Gow – Accommodation Coordinator
Verity arranges homestay placements and ensures our students are happy in their accommodation. She joined Studio in 2018.
Group Programmes and Student Services
Guy Trussell – School Manager
Guy has been at Studio full-time since 2007, but first worked at our summer camps in 1994. He manages the smooth day-to-day running of the school.
Edwina Warrington – Head of Young Learners

Explore Studio Cambridge...
Enrol
Contact Us