Your progress
It's important that your time here at Studio Cambridge is productive. We recognise that students coming to study with us may have different goals in mind for their progression. 
This is key to your stay with us and we will do all we can to ensure you make good progress with your English. Our lessons, social programme and host family accommodation are all designed to help you to take full advantage of your time with us to make progress in your English.
Here are some other things we do:
Tutorials
A tutorial is a private meeting with a teacher, in which you can discuss the progress you have made and what you need to do next to reach your goals.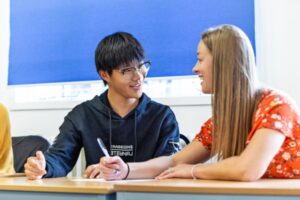 Your Study Plan
Based on the personal goals identified in your tutorials and your work in class, your teacher will give you a personalised Study Plan. This will guide you to work on those areas of English which you need to focus on to improve your command of the language.
Weekly progress test
This is an in-class test that you take with your classmates on the work covered that week. The teacher designs the test to fit with the language he or she expects you to know by the end of the week. It gives you clear feedback on how much you have learnt and if there are areas you need to review.
Exit or progress test
This test is taken outside of your class, usually when you come to the end of your course but sometimes to measure your progress mid-way on your course. The test is similar to the placement test and measures your overall level. You will receive a certificate showing the progress you made from the start to the end of the course.
e-Learning
Learning Centre
We offer a wide range of e-learning exercises for those students who prefer screens to paper. One advantage of e-learning is that your answers are marked immediately and so you don't need to wait to find out how well you have done.  The exercises include:
Watching to video clips and answering questions on what you have heard
Pronunciation exercises
Grammar tasks in which you need to fill in the gaps
Vocabulary multiple choice
Online lessons
When your course at Studio Cambridge finishes, you may want to continue to study and practice English with us. You can do this by booking online lessons with a Studio Cambridge teacher at an additional cost.
The lesson content will depend on your needs. However, for example, a general English course will include:
Discussion of a topic with your tutor – this will help you with your speaking fluency and listening
Correction of your errors – this will help you with your pronunciation, vocabulary and grammar
Explanations – your tutor will be looking for you to use certain grammar structures and vocabulary when talking about each topic. He or she will explain the areas you don't know
Practice – your tutor will give you speaking tasks to help you to practise the grammar, vocabulary and pronunciation from the lesson.
Feedback – after each lesson, your teacher will send you feedback on your performance.
Homework – one or more homework tasks to help you to consolidate what you have learnt between lessons, including:
Online multiple choice tasks on grammar and vocabulary with instant feedback
Online video with listening comprehension and vocabulary tasks
Reading short stories online
Writing tasks marked by your teacher
Self-study
Homework
Your teacher will set you homework which complements your classroom studies.
Learning Centre
You will have access to our Learning Centre in which you can do homework, do additional exercises on paper or on computers, borrow books at your level and receive guidance from a teacher.
We have a wide selection of materials to help you to improve your English:
Graded Readers with audio – these books are written for students, according to their level of English
Study books and computer software on grammar, vocabulary, pronunciation and exams
Films (DVDs)
General Fiction
Reference books and dictionaries, newspapers and magazines
Missions
We set missions for you, with the goal of finding out information and encouraging you to practice your conversation skills around the city. Studio missions are fun, out-of-school assignments, which help you to explore Cambridge while practising and improving your English.
Explore Studio Cambridge...
Enrol
Contact Us