What can you expect from Sir George?
Ages 14 to 17 | Cambridge | Open January 2nd – July 3rd & August 28th – December 18th 2022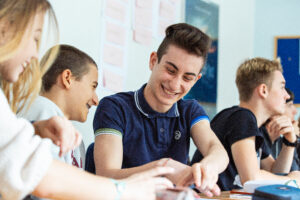 Sir George is an intensive camp for teenagers available during the academic year.  The course combines 20 lessons (15 hours) of General English language teaching per week with 8 lessons (6 hours) of English and life skills plus 5 sessions of guided study or cultural activities per week.
Located at Studio Main School on Station Road in Cambridge, the camp has been running since 2008. Students usually join for between 1 week and 4 weeks, but longer study is possible.  The course begins every Monday (except during summer and Christmas) and you should plan to arrive the Sunday before your course starts and depart the Sunday after your course finishes.
What's included?
20 general English lessons per week
8 life skills lessons per week
Homestay accommodation
All meals, including hot weekday lunches at school
2 after-class activities per week
3 guided study sessions per week
Transfers from and to London's main airports
Welfare supervision with high staff-to-student ratio
24 hour emergency telephone line
During the break in July and August other summer camps offer different course options to this age group.
English language level must be at a minimum of elementary.
This is an ideal camp for students aged 14-17 who wish to have intensive English language study in a homestay environment.
If you would like to join us you can enrol online here.
Check out the gallery below to see what out Sir George students get up to!
Where is Sir George based?
Address
Studio Cambridge Main School
Station Road
Cambridge
CB1 2JF
What is the course centre like?
City-centre site
Lovely Victorian buildings
13 classrooms
Studio Café for meals and social gatherings
Computers with internet access and Wi-Fi
Lovely garden
Sports Hall 10 minutes walk away
Indoor swimming pool 10 minutes walk away
City parks 10 minutes walk away
Homestay accommodation available in the city

The city of Cambridge
Cambridge is one of the most famous, and most instantly recognised, city names in the world. It has been a centre of learning for 800 years and is the international symbol of academic excellence. But it is also fun! With 20,000 university students, virtually the only "business" of Cambridge is education and, despite its age, the whole city is designed for young people.
It is the ideal place for the international English language student.
Check out the gallery below to see what out Sir George students get up to!
What's included?
Classes from elementary to advanced levels
20 lessons (15 hours) of general English language teaching per week
8 lessons (6 hours) of English and life skills for teenagers
5 sessions of guided study or cultural activities per week
International classes
Average class size: 10
Maximum class size: 16
All educational materials
Placement test
Certificate of Studies
Academic report from your teachers at the end of your stay
Activities programme:
3 guided study sessions per week after class
2 activities per week after class
Welcome orientation and tour of the school on the first Monday of the course (instead of a Guided Study session)
Accommodation and meals:
Homestay accommodation
Lunch at school Monday to Friday
Vegetarian and non-pork option always available
All other meals provided at your accommodation
Airport transfers:
Meeting you at the airport on arrival and bringing you to your accommodation (London Heathrow or Stansted airports on Sundays)
Taking you to the airport for departure and checking you into your flight back home (London Heathrow or Stansted airports on Sundays)
A small supplement is charged for Sunday service to Gatwick or Luton airports. If you plan to arrive on a different day or at a different airport please contact us. Additional fees will apply.
Welfare:
Welfare office and staff
Emergency 24-hour telephone number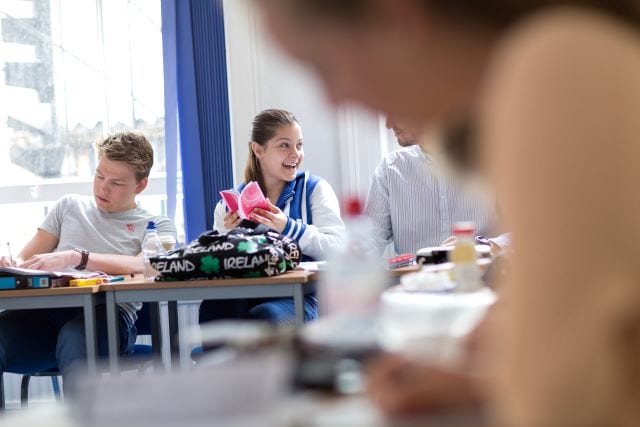 Check out the gallery below to see what out Sir George students get up to!
Where will you stay?
Homestay accommodation
Living with a host in Cambridge in their private home – a "homestay" – is a great way to practise English in a relaxed environment outside of classes. Our hosts are known to us personally and we inspect all of them regularly. They provide a friendly environment, a clean and comfortable bedroom, good food and a quiet place for study.
Homestays are normally located less than 40 minutes from school on foot, by bicycle or using the frequent bus services. Our hosts are typical of British and Cambridge society as a whole with different ages and occupations, and from a variety of ethnic and cultural backgrounds.
Students taking the homestay option should be prepared to travel independently to and from the school. There is a bus stop directly in front of the school and as we are located next to the train station most city buses go past the school.
Sir George homestays:
A bedroom, shared by two Studio students of the same gender who do not speak the same language (however, some singles are available, please check before booking)
A shared bathroom
All meals included (weekday lunch taken at school)
Laundry once per week
A change of bed linen and towels once per week
On the first Sunday of arrival, check-in with homestays should be between 12:00 and 17:00 (20:00 at the latest)
Laundry:
Your host will wash your clothes for you at least once each week. Bed linen is provided and will also be changed and washed once each week.
Meals:
Breakfast and dinner is provided by your hosts. Lunches on class days are provided at the course centre. At weekends packed lunches are provided. Please inform us if you have special dietary requirements.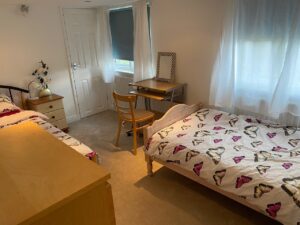 Is homestay accommodation right for you?
Homestay accommodation is suitable for you if you are interested in living with (and learning about life with) a local Cambridge host. You will have unsupervised free time as you are required to travel independently between the school and your accommodation, by bus, bicycle or on foot.
Check out the gallery below to see what out Sir George students get up to!
How do we keep you safe?
At all of our camps, regardless of the time of year, we have high levels of staff-to-student supervision. To ensure proper supervision is maintained students must attend all lessons, activities and meals, unless you are unwell.
Sir George students:
Have some unsupervised time when not in school or attending activities, but must not travel independently outside of Cambridge
Need to make their own way to and from their accommodation independently and must return by 22:00 at the latest each evening
Have some periods of time in the homestay house without an adult present
Sir George is a Junior camp. It is for ages 14 to 17, but rules vary slightly for ages 16 & 17 compared to ages 15 and under. Some students aged 16 & 17 prefer to join our Adult English Courses, such as EFL-28.
On Sir George:
The levels of supervision are higher than those provided on our "adult" courses, but we do not provide 24-hour supervision and students will not usually be supervised during free time
Students aged 16 & 17 may sometimes study in classes with students aged 18 or older
Students aged 16 & 17 may sometimes study in classes with students aged 15 or younger
The maximum age for students in class with ages 14 & 15 will be 17 years year old
There are strict "curfew" rules regarding the latest time under 18s can return to their accommodation in the evening
Students aged under 18 are not permitted to travel independently outside of Cambridge without a responsible adult
Two specified afternoon activities are provided per week for Sir George students. The school's social programme for Intensive English ("adult") Courses is not available to Sir George students.
School social activities are supervised by members of staff, but all students attending social events are expected to make their own way back to their accommodation
We sell tickets for full-day and weekend excursions run by other companies but not to under 18s, as we do not think the companies which run them provide the necessary supervision for this age group. Under 18s can only join Studio-organised excursions, which are led by our staff but do allow some unsupervised free-time
We advise parents not to allow students to make their own independent transfer arrangements. Return taxi transfers arranged by Studio are included in the camp fees.
On arrival, students should aim to arrive in their accommodation in Cambridge no later than 20:00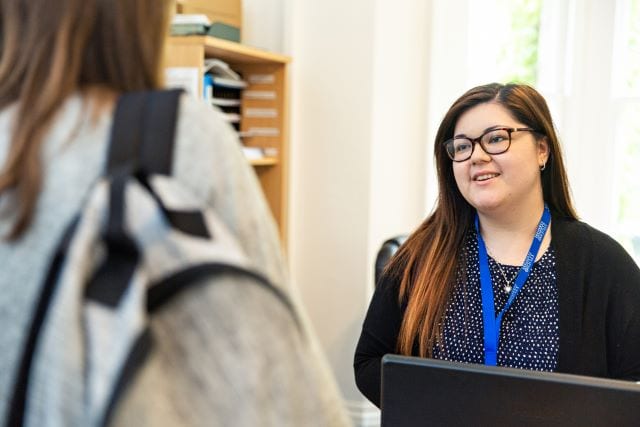 Check out the gallery below to see what out Sir George students get up to!
What will you do?
Classes are held from Monday to Friday. Students can choose to go on an excursion every other Saturday at an additional cost. A typical day at Sir George might look as follows:
Sir George
Morning lessons:

09:30-11:00

Intensive study lessons 1 & 2

11:30-13:00

Intensive study lessons 3 & 4

Afternoon lessons:

13:45-15:15

Life skills lessons 5 & 6

Guided study or activity:

15:20-16:05*

*There are no Friday afternoon lessons so cultural activities start from 14:00
Please see the example timetable by clicking the link below:
2022 Sir George Example Timetable
Check out the gallery below to see what out Sir George students get up to!
What happens outside of lessons?
Sir George offers 3 sessions of guided study and 2 sessions of activities per week.
Guided study
Guided study is set by your teachers and there is help available from a member of staff. It will reinforce and extend what you learn during lessons, thereby helping you make quicker progress.
Activities
Cambridge is a fantastic place to study and live. Because of this, we organise a cultural visit each Friday afternoon to a place of interest in the city. Halfway through the week, we organise a social or sporting activity for our students to practise their English outside of the classroom and get to know each other.
Sample activities:
Charcoal sketching
Bag design
T-shirt design
Basketball
Quizzes
Mask making
Board games
Traditional English tea party
And more!
Check out the gallery below to see what out Sir George students get up to!
Is there anything else?
Airport transfers
All junior camps include transfers to and from Heathrow or Stansted airport on Sundays. If you are arriving or departing on another day or from/to a different airport, we can still provide a transfer but an additional charge would be required, depending on the distance involved.
You should aim to arrive at your accommodation in Cambridge no later than 20:00.
Registration is included in the package price for this camp, so there is no extra charge for this.
Excursions
Studio-organised excursions are available for Sir George students at extra cost on most weekends. Destinations include: London, Warwick Castle, Oxford, Windsor Castle, Brighton. Typical costs range from £25 to £45 per excursion, depending on the destination.
Travelling to and from school
Homestay students will need to travel independently to and from school for classes, activities and excursions. Cambridge is not a big city so it is quite easy to get around by walking, by bike or by bus. Bus tickets and bicycle hire are an extra cost and are not included in the fees.
Buses
We recommend that students use the local bus services. You can buy a 'Citi' bus pass (approximately £15.00 per week), which is called a 'Megarider'. These can be bought on the buses by asking the driver directly. There is a bus stop directly in front of Studio school for the Sir Michael camp. Studio staff will also be able to help you choose the correct bus, which will take you to and from the school or city centre.
Visit the Cambridgeshire Council site for bus timetables
Bicycles
This is the favourite and most traditional way of getting around Cambridge. Cambridge has many cycle lanes to separate bikes from car traffic and parks to cycle across, but we only recommend bicycle hire for students who are experienced cyclists in their own country. The cost is approximately £17.00 per week for a short-term stay, plus a deposit is usually needed. if you are a competent cyclist and confident about cycling on English roads this is a good way to get around the city.
Visit the Cambridge cycle hire page for bike hire details.
Taxis
Taxis in Cambridge are safe and a good way to return home quickly and safely. To take a taxi every day would be expensive but sometimes it is the best way to return to the homestay after an evening activity – especially if you share with other students who live in your area. A typical taxi cost from the city centre or the school to your homestay will be between £10 and £15 per journey depending on where you live.
On arrival at the camp, you will be given details of the taxi company's phone number.
IELTS Examination
If you wish to take the IELTS exam you may have the opportunity to do so on specific dates. Please contact us at the time of enrolling for full availability. This exam is at an additional cost (estimated at £180).
Check out the gallery below to see what out Sir George students get up to!
Prices
2022 Camp Prices
| | |
| --- | --- |
| 1 weeks | £925.00 |
| 2 weeks | £1485.00 |
| 3 weeks | £1995.00 |
| 4 weeks | £2520.00 |
| Every week after | £595.00 per week |
Use our course pricer to work out how much a long-term Sir George stay will cost.
Check out the gallery below to see what out Sir George students get up to!
Gallery
Explore Studio Cambridge...
Enrol
Contact Us