Student welfare at Studio Cambridge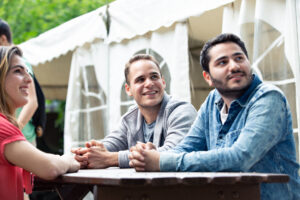 Your well-being, comfort and safety are our most important responsibility and we take it seriously.
Welfare staff
All of our programmes have dedicated and experienced welfare staff who will look after you during your time at Studio Cambridge. You can go to them if you have any problems during your stay. In addition, if you are under 18 and here without a group leader, staff will regularly talk to you. Above all, we want to make sure that you are ok and settling in happily.
A warm welcome
All students receive a warm welcome from the staff on their arrival at school. We will also give you an orientation session where you will be told some important information about what you can and can't do whilst you're here. If you have any questions, our staff will be happy to help.
Caring hosts & staff
Homestay hosts or local staff will welcome you to your accommodation and help you settle into life in Cambridge. If you are under 18 years old, your host will also check that you are home by 22:00 each evening.
Medical care
Please help us to look after you by providing us in advance with relevant information about any physical health, mental health or learning issues that may affect you. This information should be provided in the 'Emergency Contact Details form' that we will send to you.
Medical care for under 18s
If you are aged under 18 and need to bring medication with you, please ensure we are informed of this in advance through the 'Student Registration Form' link that we will send to you. If assistance with administering the medication is requested, please provide instructions (in English) from a doctor, with an explanation of the treatment required. All medication brought with you should be discussed with the welfare staff at school when you arrive.
Our first aid trained staff may give students non-prescription medication (paracetamol, for instance), unless we are informed in advance not to do so. Homestay hosts are not able to offer medication to students.
Passports
We take a copy of all students' passports or other ID on the first day of class. We store the information carefully and do this in compliance with UK Home Office regulations.
24-hour emergency phone
All students receive our 24-hour emergency phone number which you can call at any time, or if you need assistance from a member of staff outside of school hours.
Staying in the city
If you are under 18, you may not leave Cambridge during your free time, without written permission from your parents or guardians.
Free time and supervision
Students on our adult English courses are generally unsupervised except for during lessons, so this option is for adults and those aged 16+ who do not need supervision.
Explore Studio Cambridge...
Enrol
Contact Us