Welfare
Welfare Staff
All of our programmes have dedicated and experienced welfare staff who will look after you during your time at Studio Cambridge. You can go to them if you have any problems during your stay. If you are under 18 and here without a group leader, you will have regular welfare meetings to check that you are ok and settling in happily.
A Warm Welcome
On your first day in school, you will be met by a member of staff who will talk to you to make sure that you are ok, and take you on a tour of the city centre to help you get to know your way around. If you have any questions, our staff will be happy to help.
Caring Hosts and Wardens
On homestay camps, hosts will welcome you into their home and help you settle into life in Cambridge. Your host will also check that you are home by 22:00 each evening and call us if there are any problems.
On residential camps, Studio Cambridge residential wardens will be living on the same floor as students. They will be available to help you settle in and resolve any issues you may have whilst living in residence.
Medical Care
All students should provide us in advance with relevant information about any physical health, mental health or learning issues. If you need to bring medication with you, please ensure we are informed of this in advance using Studio's 'Emergency Contact Details form' which will be sent to you once you book the camp. In this case, please provide instructions (in English) from a doctor, with an explanation of the treatment required.
All student medication brought with you to the camp should be discussed with our Welfare staff. Our first aid trained staff may give students non-prescription medication (such as paracetamol), unless we are informed in advance not to do so. Homestay hosts are not able to offer medication to students.
Passports
We take a copy of all students' passports or other ID on the first day of class. We store the information carefully and do this in compliance with UK Home Office regulations.
24-Hour Emergency Phone
All students receive our 24-hour emergency phone number which you can call at any time, or if you need assistance from a member of staff outside of school hours.
Activity Programme
Our social programme offers several activities per week after class.
Welfare Blog
Check out our Welfare Blog, updated every Wednesday by our very own Head of Welfare, Amy! Here Amy lets you know what's been going on around school and gives advice on keeping yourself happy and healthy.
–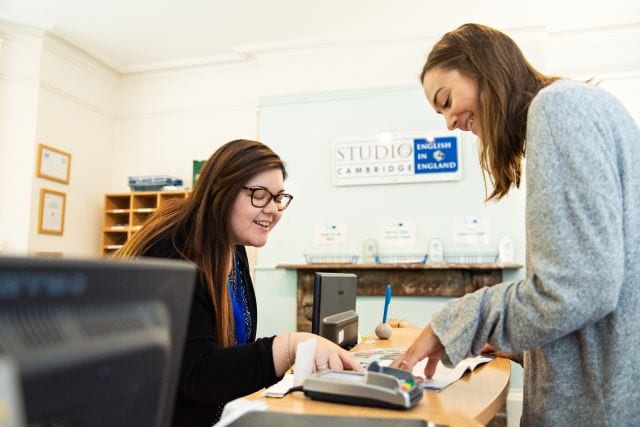 Explore Studio Cambridge...
Enrol
Contact Us