Who will be teaching you?
We have a team of experienced teachers with varying styles. Let us introduce you to our longest serving teachers:
Amanda Longhurst – MA, CELTA
Amanda's interests are English and Art.
Clara Givens – BSc CELTA
Clara teaches all the levels at Studio. In the summer she is responsible for the Sir Christopher summer camp.
Danielle Di Lorenzo – BA, CELTA
Danielle teaches most of the year. Before she went on maternity leave she has previously been responsible for our Sir Christopher summer camp.
Dermot O'Sullivan – Chartered Accountancy, DELTA
Dermot encourages students to get really involved in the lessons and to take responsibility for their studies.
Gabriel Leslie – MA, Trinity TESOL Certificate
Gabriel is particularly interested in preparing students for the IELTS exam.
Jo Opie – MA, DELTA
Jo teaches a variety of levels and exams.
Katie Salter – BA, DELTA, PGCE
Katie's lessons are very clear so you can be confident you will understand, whatever your level of English.
Maria Haynes – BA, RSA Diploma TEFL, PGCE
Maria loves teaching pronunciation in particular.
Mel Bubenicek – BA, DELTA
Mel is a teacher, teacher trainer and in the summer assumes the Director of Studies role on our adult courses. She's very busy!
Mhairi Jackson – BA, CELTA
Mhairi loves teaching English and has a special interest in English Literature.
Phil Brown – PhD, RSA Diploma TEFL
Phil has taught at Studio for 35 years and retains his passion for teaching to this day.
Phil Unwin – BA, CELTA
Phil teaches general English and English for Business.
Ray Dunstan – BA, CELTA
Ray taught Russian before teaching English. He ensures students learn and have fun at the same time.
Stephen Blake – BA, CELTA
Stephen teaches general English and English for Business.
Tom Hewson – BA, DELTA
Tom is a teacher and teacher trainer. He is currently doing an MA.
–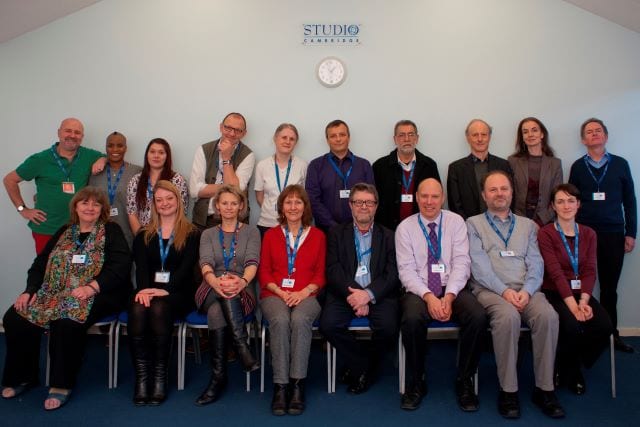 Explore Studio Cambridge...
Enrol
Contact Us